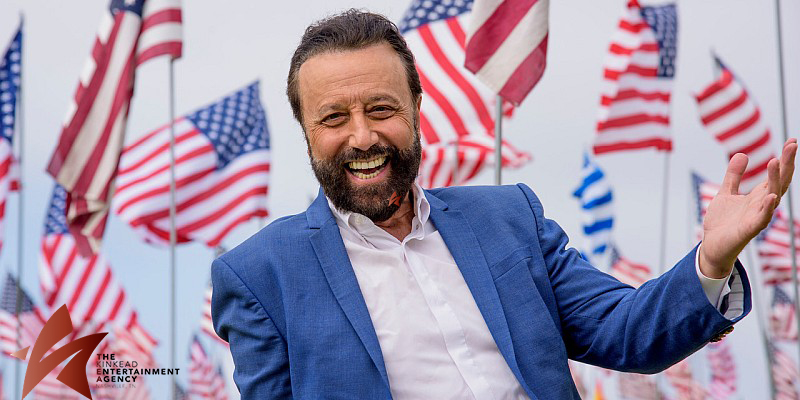 TICKET SALES FOR THIS EVENT BEGIN ON THURSDAY,  AUGUST 13 –   An Online event with comic legend!
Ticket prices based on level of experience:
$25 – General Admission (with 24-hour live stream capability if you want to watch it again!)
$50 – V.I.P. Pass – (Gives you admission to the show but then an additional link to live stream with Yakov after the show to ask questions and "hang out"!)
Yakov Smirnoff is a Russian Immigrant who loves America and being American. "UNITED WE LAUGH" is a comedy special brought to you by Yakov that will leave you in stitches laughing and shedding a tear at the same time. After enjoying this 75 min journey, Yakov will have everyone Laughing United.
Yakov Smirnoff is a legend in American comedy. After escaping communist Soviet Russia in the 1970's, he came to this country with nothing but a dream. Not even knowing the language, Yakov humbly began working as abartender at the famous Grossinger's Catskill Resort in New York, where he was able to tell jokes each night after his shifts. As his English improved, he quickly grew in popularity. He would then make the move to Los Angeles where the owner of The Comedy Store, Mitzi Shore, took him under her wing.
His lovable view of life through the eyes of a poor immigrant captured the hearts of America. He soared to the top of the comedy world performing on "The Tonight Show" with Johnny Carson and countless other television programs, including as a regular character on "Night Court" and the star of his very own show, named after his famous catch-phrase, "What a Country!" He branched out to the big screen where he starred in movies with Tom Hanks, Robin Williams, and Jack Nicholson to name a few.
Location
Firehouse Arts Center