---
April 3, 2019
—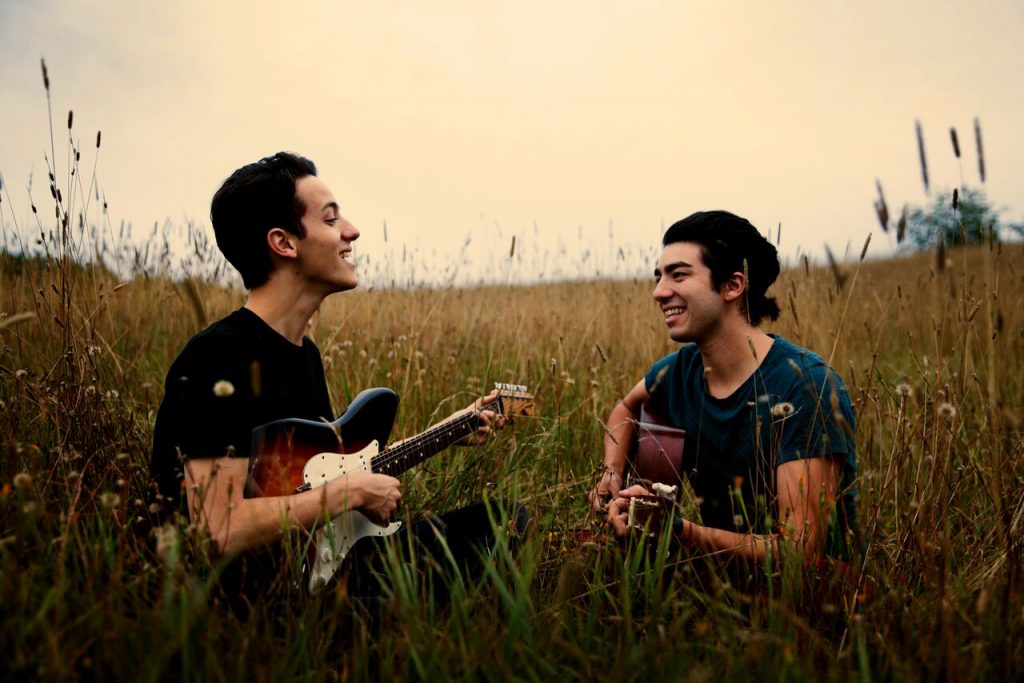 OSHIMA BROTHERS
Magnetic Sibling Sound – Friday April 19 – Firehouse Arts Center Stage
PLEASANTON, Calif. —  Harmony-rich original folk music and acoustic pop come to the Firehouse Arts Center Theater in downtown Pleasanton on Friday, April 19, at 8:00 p.m.  In their only Northern California stop on the current national tour, the Oshima Brothers' set list includes tracks off their 2016 album in addition to plenty of new material. 
Oshima Brothers live concerts are surprisingly rich, with dynamic vocals, electric and acoustic guitars, octave bass, loops, and percussion.  The duo hails from rural Maine, were raised in a musical family, and have been creating and performing since they could hold instruments. 
The brothers: Younger brother Jamie is the band's producer, recording/audio engineer, and filmmaker. In addition to singing, he plays electric guitar, bass, drums, keyboard, mandolin, banjo, and fiddle. Jaime has been recording songs and making videos in his home studio, Tiny Room Studio, since he was twelve. "Senior" member Sean is the band's songwriter, publicist, business manager, stylist… and chef. He sings and plays rhythm guitar, harmonica, and cajón.
Tickets: Reserved seating tickets are $15 – $25. Tickets online at www.firehousearts.org, by calling 925-931-4848, and in person at the Box Office, 4444 Railroad Avenue, in downtown Pleasanton.  Box Office hours are Wednesday – Friday 12:00 noon-6:00 p.m. and Saturdays 10:00 a.m. – 4:00 p.m., and two hours prior to performances if not sold out. Free parking available in the center lot, entrance on Spring Street.
Calendar Item
Oshima Brothers. In concert Friday, April 19, 8:00 p.m. at Firehouse Arts Center in downtown Pleasanton. Harmony rich blend of contemporary folk and acoustic pop.  Dynamic vocals, electric and acoustic guitars, loops and percussion.  Tracks off their 2016 debut album, plus much more. Note: Only Northern California show on current national tour. Reserved Seat Tickets: $15 – $25. Tickets available at www.firehousearts.org, 925-931-4848, or at the center Box Office, 4444 Railroad Avenue, in downtown Pleasanton.  Free parking.
The Firehouse Arts Center is owned and operated by the City of Pleasanton, and dedicated to inspiring passion through the arts.  The center is comprised of the 227-seat Firehouse Theater, the 2000 square foot Harrington Gallery, classrooms and rehearsal space, the grand atrium lobby, and the famous interior glass bridge.  With world-class performing and visual arts, exciting interactive programs for all ages, and a state-of-the-art venue which opened in 2010, we combine the sophistication of the culturally rich Bay Area arts landscape with the hospitality and intimacy of our own home town.  The Firehouse Arts Center is located at 4444 Railroad Avenue in downtown Pleasanton.  
Follow us on Twitter @FirehouseArts, Instagram #FirehouseArts, and Facebook www.facebook.com/FirehouseArtsPleasanton
###