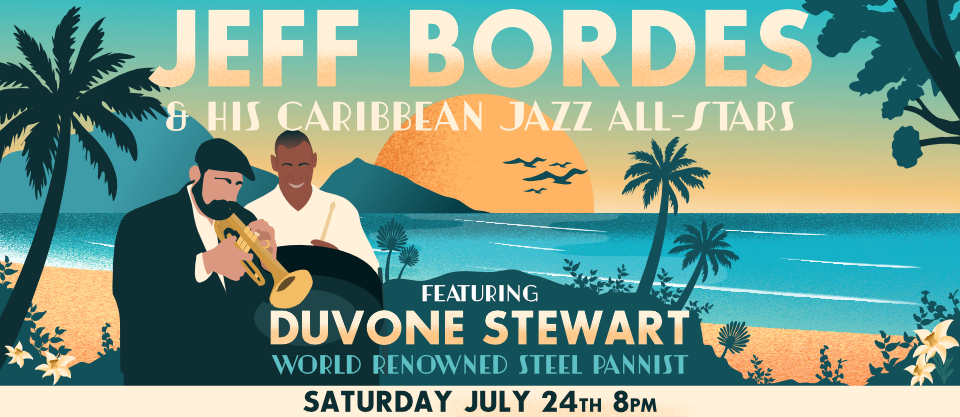 Featuring Duvone Stewart, World-Renowned Steel Pan Player
What better way to beat the heat of the summer, than with some cool Caribbean Jazz.  Firehouse favorite Jeff Bordes teams up with one of the hottest steel pan players from Trinidad and Tobago.
Trumpeter Jeff Bordes has been performing at the Firehouse arts Center annually for the last seven years to sold-out audiences.  His jazzy holiday revues are fan favorites, and his shows paying tribute to different jazz icons (Dizzie, Louis, Miles and Ella to name a few) leave nary an empty seat.  This incarnation of Jeff Bordes & Friends will include a rare treat, with steel pan player extraordinaire – Duvone Stewart.
Jeff started playing trumpet as a teenager right here in Pleasanton.  Later going off to attend the prestigious Berklee College of Music in Boston.  As a performer, Jeff has shared the stage with jazz and pop icons alike.
Musician, pannist, composer and steel pan arranger, Duvone Dwayne Stewart was born in 1976 on the beautiful island of Tobago; the smaller of two islands that make up the Republic of Trinidad and Tobago.  Studying music at age 6, Stewart began performing at age 8.  Entering and winning several steel pan competitions, Stewart began touring other Caribbean islands in his teens.  Stewart continued to excel in his field of music, entering the World Steel Pan Competition.  And at 18, he moved to Trinidad to begin his journey to master the art of steel pan, studying and performing with some of the greatest regional musicians.  Stewart showed remarkable potential and depth for a young performer. He not only impressed audiences with his showmanship and skill, but with his humility on and off the stage.   By 24, Stewart was arranging and touring Europe and North America with his six-piece steel ensemble, NFM Pantasy.  Stewart would go on to compose, arrange and perform with a long list of band leaders and soloists throughout these continents.
Location
Firehouse Arts Center