CURRENT EXHIBIT
Currently in the Harrington Gallery
Pleasanton Art League: 6th Annual Fall Members' Exhibit at the Harrington Gallery
Sept. 24 through Oct. 24, 2015
Reception and Awards: Tuesday, Sept. 29, 6-8pm
A nice variety of works by 77 member artists. Cash awards will be presented at the reception. This year's exhibition theme is "Patterns," one award will be selected in the theme category.
Related Program: Young@Art "Pleasanton in Watercolor" Oct. 1, 2015, 4:30-5:45pm, ages 5-11. Visit www.pleasantonfun.com to register, Code: 61042
Lobby and Hallway Exhibits
Charlotte Severin: Paintings on Yupo Paper, A Retrospective
Now through October 14, 2015
Well-known Pleasanton Artist Charlotte Severin currently has watercolor paintings on display in the Grand Lobby and the Downstairs Hallway Galleries. This collection of works on water resistant yupo paper will run through October 10.  Charlotte has taught watercolor painting classes for many years through the City of Pleasanton's Community Services Division, and is a founding member of the Pleasanton Art League.  One of her paintings, "Surf Patterns", can also be seen in the members' exhibit in the Harrington Gallery.
Upstairs Alcove Exhibit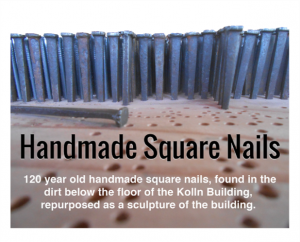 Gary Winters, a local artist and inventor, will have his recent creative nail and wood piece on display in the Upstairs Alcove Gallery from September 23 through October 17.  Gary was able to obtain old nails from underneath the Kolln Hardware Building during the extensive reconstruction that took place several years ago, and has used them to create an image of the old hardware store, which was a Pleasanton institution for many years, its image embedded into the City's logo.
Pleasanton Art League Wall
Clancy Crew
Through October 10, 2015
Work by PAL member and long time Valley resident, Clancy Crew, is hanging on the PAL Wall of the Firehouse Arts Center through October 10. After spending his years teaching at Livermore High School, Crew (as he likes to be called) now teaches privately.
All Firehouse Art Exhibits are Free—donations cheerfully accepted