March 4th – April 15th, 2023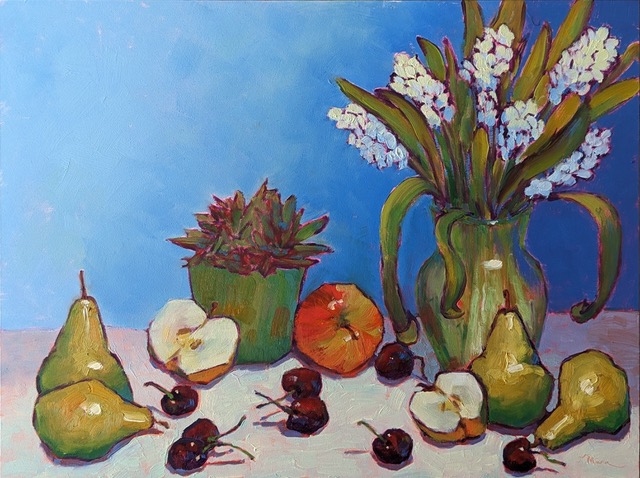 We are delighted to introduce our featured artist on the Pleasanton Art League Wall for March through April 2023, Marc Casad.
Working primarily in the medium of oil and acrylic, this solo exhibition showcases a selection of the artist's representative still life and seaside paintings. Almost entirely self-taught, Casad has been painting for over 25 years. In recent times, the artist has explored Impressionism and Post-Impressionism in the still-life and landscape format both in the studio and en plein air.
In 2023, Casad sought a unique style in his Post-Impressionist works using brightly saturated color schemes, underpaintings, strong contour lines, flattened shapes, and abstracted backgrounds.
A major breakthrough occurred after his daughter said, "Dad, you paint still-lifes with fruit beautifully but people eat fruit. Flowers represent the beauty of nature. You should add flowers to your still-lifes."
Featuring 24 works for this presentation, we invite you to come meet the artist on Saturday, March 11, 2023 at 1-3pm.