Claudette McDermott
April 22 – May 27, 2023
Solo Exhibition on the PAL Wall (2F)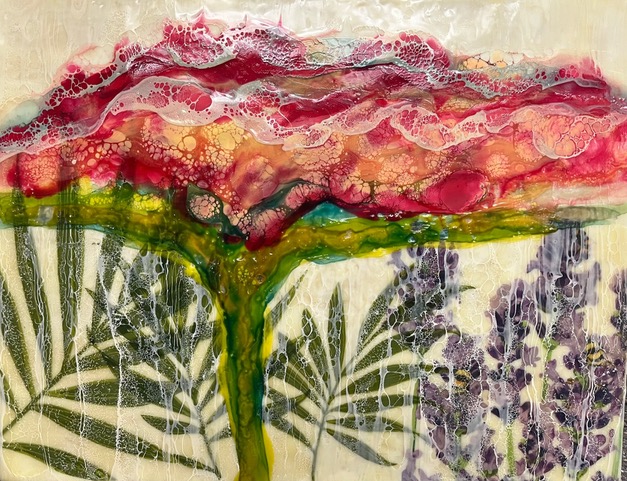 The Firehouse Arts Center is delighted to introduce our featured artist on the Pleasanton Art League Wall from late April through end of May 2023, Claudette McDermott.
Working primarily in the medium of encaustic hot wax, this solo exhibition showcases a selection of the artist's representative work using a torching technique called "shellac burn."
This exhibition will feature nine of McDemott's wax-based works on the upstairs PAL Wall.
With regards to her work and technique, McDermott explains of her process—
"Working with encaustic hot wax and resin with various techniques and tools to complete each project, when it comes to painting with encaustics, a few favorite tools are my Batik pen and mini iron. Working with a torch and heat gun assists in creating different effects. Very thin layers of wax are brushed on and heated, to bond to the previous layer, creating a solid work of art.
When it comes to working with resin, my favorite tools are a hand torch and silicon molds. Many of my pieces are created with molds so they can easily be shaped, won't leak onto the table, and remove easily once cured. While using molds, your creative edge is tinting the resin, adding a variety of materials into the resin, and pushing the tinted resin from layers to surface shaping with a heat gun or hand tools. There are times I paint onto multiple surface pours to create 3D imagery. There are endless possibilities!
In both encaustic and resin, my favorite themes are the ocean scenes, florals and abstract impressions. I offer workshops on a limited basis and commissions are welcomed. My art takes the form of wall hangings, paintings (both large and small), 3D forms of bowls, vases, containers, chess sets, platters, side and coffee tables and more."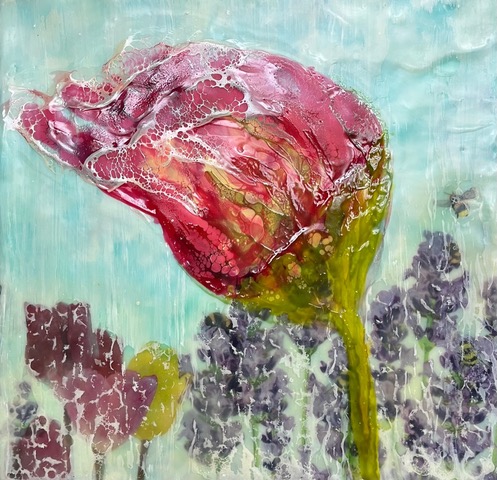 Claudette McDermott
Claudette McDermott is a contemporary Hawaiian artist, experimenting with a variety of media to give a unique fresh voice. Exhibiting in the San Francisco, Bay Area and beyond through juried exhibitions, the artist states "I've loved working and experimenting with oil, acrylic, mixed media, encaustic hot wax, resin, and metal over the last 40 years. I thrive with the challenge of working with something new. Creating art is a journey that slowly unfolds, taking me to places I have yet to see. I create because I'm compelled to create, inspired by those that are like-minded and by the world around me. Being an artist brings me joy and I hope to continue bringing joy to those who view and purchase my work, for many years to come."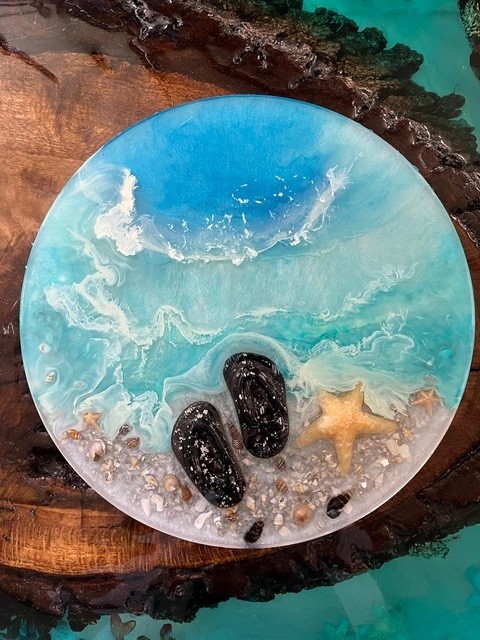 Artist Website
Email: PoetryOnCanvas@Mac.com
Instagram: PoetryOnCanvas
Let us know about your experience at the Harrington Gallery through a short survey here.