Sylvia Solochek Walters
January 7 – February 17, 2023
Reception: Saturday, February 11, 1-3pm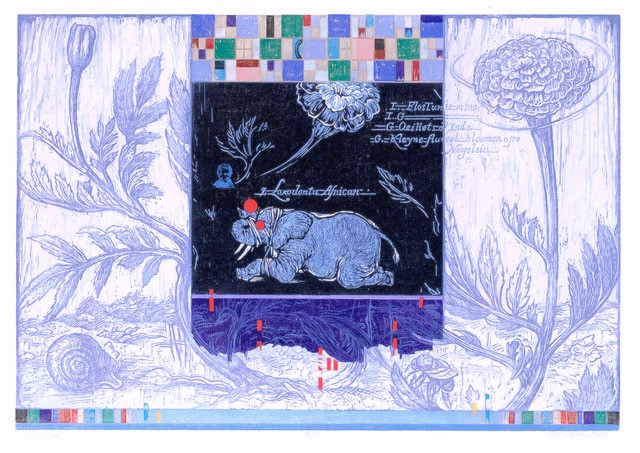 The Firehouse Arts Center is excited to present the solo exhibition of Sylvia Solochek Walters, The Heart of Color: Woodcuts 1981 -2021. A retrospective show of 23 works by the Bay Area-based printmaker, this presentation takes viewers through the artist's last four decades of studio work.
Walters' early work is heavily influenced by the artist Leonard Baskin and her graduate professors at the University of Wisconsin—Alfred Sessler and Warrington Colescott, whose work consisted of linear and heavily textured expressive black and white figural woodcuts inspired by heroic Old Testament and mythological stories.
This preliminary direction began to change in the early 1970s — first with the occasional introduction of brightly colored frames or borders on Walters' prints which established sharp visual differences between the flat picture plane and its interior spaces. By the late 1970s, she introduced more subtle color and spatial treatments along with an increased interest in patternmaking. The latter came with new subject matter, which included domestic interiors and portraits of close friends and family. These were associated in the 1970s with the Feminist Art Movement which sought to bring a woman's perspective to contemporary art, that of which traditionally struggled to place female artists in the art historical canon. Feminist artists embraced women's experiences and often adopted the use of alternative or overlooked materials, "pretty" or decorative surfaces, and crafts such as sewing and quilting, all of which were long associated only with women.
Walters' woodcut portraits frequently also reference a feminist discourse. Focused on the people in her personal life, these individuals were accessorized with imagery designed to expand the viewer's sympathetic understanding of the central figures. Included within this exhibtion, the portrait of Claudia R completed in the mid-1980s became a culmination of these interests.
During the last forty years, Walters' content began to incorporate even more personal narratives exploring the subjects of memory and place as well as family and anecdotal experiences such as rites of passage, rituals, aging, healing and grieving. Examples of these themes in the exhibition are seen in the early Fathers and Sons (1997), Becky's Babies (2001), Falling Bear (2006), Sunday Afternoon at Ballena Bay (2007) and Dearest Daughter (Lost Lessons) (2014). In the midst of these more personal reflections, however, Walters' prints also began to widen and examine a variety of social and environmental issues. Woman's Work is Never Done (2008), Around the Bend (2011), The Adored and Aggrieved (2018) and Corona Spring (2021) would reflect such concerns.
In all of her later prints, Walters uses a wide and varied assemblage of symbolic or metaphorical images derived from nature, science, visual and material culture, current events, family albums and related art historical sources loosely laid out in the field to suggest how their relationships build toward a larger narrative and deepen each print's central ideas. Her interest in Japanese woodcuts and Hebrew illuminated manuscripts is clearly evident in some of her prints for both visual and story-telling impact. Other images and occasional imbedded lines of text provide personal takes on the relationships between the central figures and the larger world.
Walters' principal contribution to the practice of printmaking is her complex color palette made possible by her early practice of combining multiple acetate stencils for printing different colors, along with the woodblock reduction process which she first adopted in graduate school. The impressions are all hand-printed, color-by-color, in small editions from a single block of wood which often take up to a year to complete. Aesthetically, they rely on a careful build-up of delicate surface detail and organic textures supplied by the wood itself. Her newest pieces based on environmental, animal abuse issues, and the social trials surrounding the pandemic continue to use symbolic images such as particular flowers, burrowing bark beetles and text, and color to enhance understanding and meaning in each image.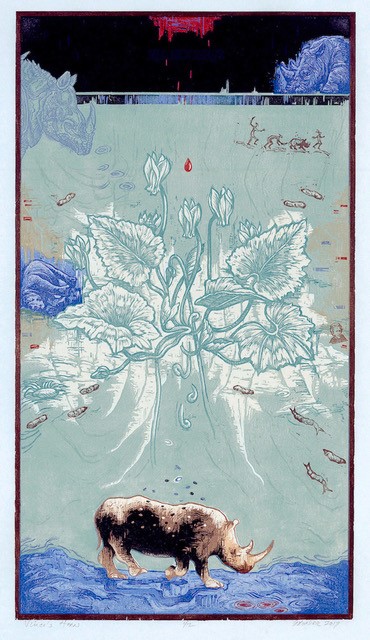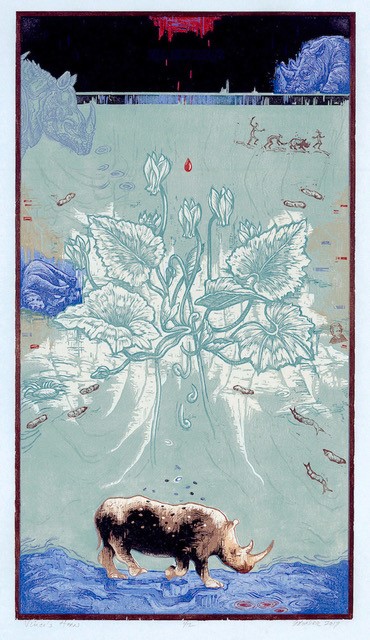 Biography
Born in 1938 in Milwaukee, Wisconsin, the artist and retired educator is most well-known for her complex hand-printed reduction color woodcuts. Walters began exhibiting her work in competitive national shows in 1958. Over the course of the last 64 years, she has exhibited in hundreds of national and international shows. Many of her prints are now in public collections as the Achenbach Foundation for Graphic Arts at the San Francisco Fine Arts Museums, the Library of Congress, New York Public Library Print and Drawing Division, Milwaukee Fine Arts Museum, St. Louis Art Museum, Chazen Museum of Art, Janet Turner Print Museum (CSU Chico), de Saisset Museum (Santa Clara University), Oakland Museum of California, Judah Magnes Museum of Jewish Art, Milwaukee Jewish Museum, YIVO Archives and Library Collections, and other private, university, government and corporate collections.
Through her extensive career, Walters designed award-winning books at the University of Wisconsin Press and taught at a variety of colleges and art schools after she finished her MFA. In 1969, she and her husband moved to St. Louis where she founded the art department at the University of Missouri in St. Louis. Twice, she served as its chairperson and was its gallery director for ten years before moving to the Bay Area in 1984. There she began a long-term position as Professor of Art and head of the San Francisco State University Art Department. She retired from SFSU as Professor Emerita of Art in 2009 and continues her art practice at her home studio in Oakland, California.