Moya Moya: Explorations to Manage Our Daily Discomfort
September 8 – October 21, 2023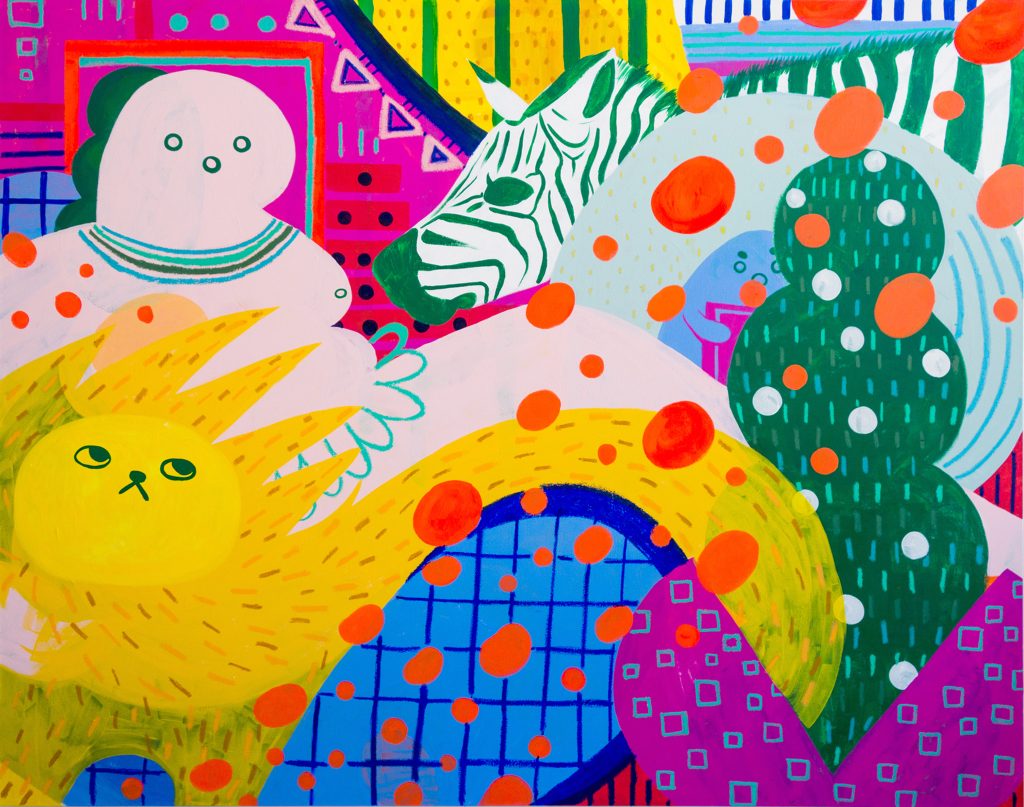 The Firehouse Arts Center is excited to present the solo exhibition of Harumo Sato, "Moya Moya: Explorations to Manage Our Daily Discomfort." A multi-media artist who is known for her whimsical paintings, sculptures, prints, and public art, Sato's work merges Japanese tradition with her unique and global world view. Using materials such as sumi ink, gold foil, acrylic, and hand-pulled screen-printing techniques, this presentation features approximately 20 works of varying mediums and vibrant subject matters. Sato reminds viewers that "sometimes it's hard to focus on one thing with our hearts floating along everywhere. We need to store and generate energy within ourselves to help others." Juxtaposing imagery of animals against the rounded forms of other living beings from the artist's imagination, this animated and thought-provoking exhibition will be on view at the Firehouse Arts Center lobby until October 21, 2023.
Harumo Sato is a Japanese visual artist living in Mountain View, California. After living in Japan, France, Morocco, Tunisia, Italy, Spain, she earned a Bachelor of Arts from the University at Buffalo, New York in 2015. Through experiencing a life-altering sudden illness and severe natural disaster in her early life, the artist aims to find a new harmonic view of our lives with chaos viewed as a necessary force within the universe.
Sato's paintings and hand-pulled screen prints are part of public and private collections, and have been shown numerous solo and group exhibitions in California, New York, Oregon, and New Mexico. In 2021, the artist was also a SECA (Society for the Encouragement of Contemporary Art) Art Award nominee. She has been commissioned for mural-installations by the CZI, MidPen Housing, Target, Superfine! Fair in LA, Meta, and other notable clients. Sato is also a recipient of the Cubberley Artists Studio program in Palo Alto, California.
Come meet the artist on Friday, September 8, 2023 from 5:00 – 7:00 P.M. at the Firehouse Arts Center to learn more about her creative process.
New Gallery Hours Starting September 2023:
Wednesdays & Thursdays: 10am-5pm
Fridays: 10am-6pm
Saturdays: 10am-3pm
Let us know about your experience at the Harrington Gallery through a short survey here.