Click HERE to be taken to the Creatures of Impulse page
---
Auditions
Bring It On The Musical | Teen Summer Musical | June/July 2018


PIT ORCHESTRA/BAND  Audition Information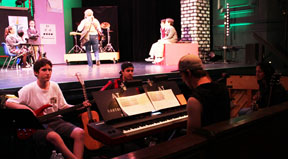 Who: High School Students grades 9-12
When: Tuesday, April 2 4:00pm-5:30pm
Where: Firehouse Arts Center Classroom
Note: Students selected for this program will be considered members of the High School Music Collaborative for the 2017-18 season.
Pit Band Instrumentation…
INSTRUMENT | DOUBLING | QUANTITY
Drums | DRUM KIT , DRUM PADS (VARIOUS) , PICCOLO SNARE , POPCORN SNARE , SCHOOL BELL (SFX) , TAMBOURINE , TEMPLE BLOCKS , TRIANGLE | 1
Electric Bass | N/A | 1
Guitar 1 |  ELECTRIC GUITAR , STEEL STRG ACOUSTIC | 1
Guitar 2 |  ELECTRIC GUITAR , NYLON STRG ACOUSTIC | 1
Keyboard 2 | N/A | 1
Percussion |  CAXIXI , CHINA CYMBAL , CONCERT BASS DRUM , CRASH CYMBAL , DJEMBE , DRUM KIT , DRUM PADS (VARIOUS) , FINGER CYMBALS , FLOOR TOM , GLOCKENSPIEL , GRAN CASA , GYM WHISTLE , MARCH SNARE , MARK TREE , PICCOLO SNARE , PLASTIC MARACA , POPCORN SNARE , SHAKER , SMALL SHAKER , SUSPENDED CYMBAL , TAMBOURINE , TIMBALE , TRIANGLE  | 1
Sign up to audition for the Bring It On PIT BAND by clicking HERE
Download the PIT BAND Rehearsal & Performance Schedule HERE
Desirable high school candidates for this program must…
– Know how to read music for their specific instrument(s)
– Have an advanced command of their musical instrument(s)
– Work well with others in a team environment
– Consider direction and criticism as tools for growth
– Be able to communicate well with peers and staff
– Be on time and present to all scheduled camp rehearsals and performances
– Have an email and/or cell phone number where they can be reached
What to prepare for your audition (per instrument). You may audition for more than one instrument.
1. One minute (maximum) of a current rock tune of your choice
2. One minute (maximum) of an R&B tune of your choice
3. Be prepared to sight read 1-2 32-bar selections from the show (Bring It On)
4. Please arrive 15 minutes prior to the schedule audition time you select.
5. You may not receive confirmation, so please commit the time you select to your own family and academic calendars
Questions? Contact Mark Duncanson at 925-931-4828 or email mduncanson@cityofpleasantonca.gov
CAST Audition Information
*This is a PG-13 production due to some teen themes and language*
**For ages 12-18 only (must be 12 by the start of camp)**
Auditions: Tuesday March 20 & Thursday March 22 | 5-9 PM
Call Backs: Tuesday, March 27 | 5-9 PM
Camp Rehearsal Dates: M-F 6/25-7/20 | 9 AM-1 PM
Tech Rehearsal Dates: M 7/23- W 7/25 | 9 AM-3 PM
Performance Dates: Th 7/26 7:30 PM | F 7/27 7:30 PM | Sa 2:00 PM & 7:30 PM
CAST AUDITIONS ARE CLOSED.
NOTES:
1. It is strongly encouraged that you arrive 10-15 minutes prior to the audition time you select.
2. Please arrive with all information (form, resume, and head shot) filled out and ready to hand in.
3. Late arrivals will be noted and may effect casting decisions.
4. Parents will not be allowed in the audition room.
5. All actors auditioning will be considered based on individual abilities and best-fit in the cast/role and not necessarily based on the number of sessions or years one has been involved with a particular City program.
6. Parents are encouraged to have the conversation with their child about the reality of the audition process. This can be a highly competitive process where your child may not be cast. Please make sure to breath, have fun, and rehearse audition songs and monologues well ahead of your audition date.
---
Summer Drama & Music Camps 2018

Download the 2018 Summer Drama Camp Brochure by clicking HERE or the image above.
Online resident registration begins Wednesday, April 4, 2018 at 8:00pm PST
---