Click HERE to be taken to the Creatures of Impulse page
---
Auditions
Hometown Holidays Teen Parade Announcer
W 11/16- Tu 11/22 at 11:00pm VIDEO Auditions for Age 16-18
Be a part of a Pleasanton tradition! The City of Pleasanton is seeking HIGH SCHOOL students ages 16-18 with great announcing voices and the ability to read copy live in an engaging and energetic manner. To submit your 1.5 minute video CLICK HERE! Make sure to read all the information on the form!
Important Parade Announcer Dates and Times
– Tuesday 11/29 5:00-9:00pm: Script Review and Rehearsal (Mandatory)
– Saturday 12/3 2:30pm-8:00pm: Hometown Holidays Parade
---
Music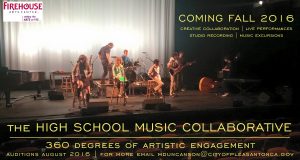 The High School Music Collaborative  is program that spans the school year. High School students selected for the program will engage in music event planning, musical performance collaborations, masterclasses, songwriting, studio recording, excursions to see shows, recording podcasts, recording music in studio, web-based videos, and more.
Congratulations to our 2016-17 High School Music Collaborative members:
Brenna Adams 



Logan Adams
Neel Chitale
Alyssa Crumrine
Amita Haravu
Lauryn Hedges
Demi Magana
Karin McCarty

Chloé Reddy

Isabella Wells
Sophie Wells
For more information: Call Mark Duncanson at 925-931-4828 or Jeff Zavattero at 925-931-4854
---
Performing Arts Classes and Workshops | Ages 11-18

Looking for Programs for KIDS? CLICK HERE
Music Theater Vocal Coaching   Young performers in middle school or high school will take their theatrical experience to the next level with this 4-week class designed to fine-tune their musical theater song technique. Performers will learn skills they can apply in current musical productions and music theater auditions. Participants are asked to come with sheet music (vocals and piano accompaniment) for their favorite song from a musical that they will work on for this 4-week session. An accompanist and professional voice coach are provided in this supportive performing arts environment.
Middle School
4 classes
Ages 10-14
Activity Code: 63383
M 11/28-12/19 | 4:00-6:00pm
$153R/$169N
Instructor: Andrew Mondello
Location Firehouse Arts Center
Intro to Costume Sewing   Participants in this workshop will be introduced to the basics of sewing and costume design for the stage. Start by getting familiar with and using the tools used in sewing the costumes then learn about the steps in designing theatrical costumes from concept to opening night.
Firehouse Arts Center Classroom B | Instructor: Tori Forest
Middle School
1 class
Ages 10-14
Activity Code: 63573
Sa 12/10 | 1:30-4:30pm | NOTE: this is a new date based on instructor availability

$55R/$61N
Instructor: Bethany Deal
Location: Firehouse Arts Center
High School
1 class
Ages 14-18
Activity Code: 63574
Sa 12/10 | 1:30-4:30pm
$55R/$61N
Instructor: Tori Forest
Location: Firehouse Arts Center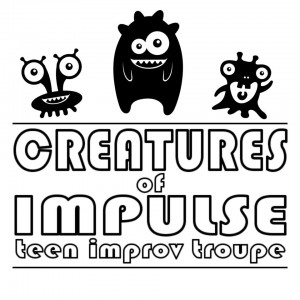 COI Middle School Phase I   Students in COI Phase I will learn the basics of improv including the "Yes, and…" principle, making their fellow improviser look good, building on the ideas of others, and letting go of one's own ego. Learning through scene work and improv games is the focus of this session.
3 classes
Ages 10-14
Activity Code: 63350
F 10/7-10/21 | 4:00-6:00pm
$74R/$82N
Instructor: Jeff Zavattero
Location: Firehouse Arts Center
COI Middle School Phase II   Prerequisites: COI Middle School Phase I, Pleasanton Teen Improv Camp
Students in Phase II will build on principles in Phase I and enhance their performance skills by adding space object work and using your where; both aspects help actors create places and things on stage without props and sets on stage. A short culminating in-class performance is scheduled for the last class.
4 classes
Ages 10-14
Activity Code: 63353
W 1/11-2/1 | 4:00-6:00pm
$99R/$109N
Instructor: Jeff Zavattero
Location: Firehouse Arts Center
Looking for programs KIDS? CLICK HERE
---
Firehouse Young Artist Collective
A group of high school youth with a unified passion for the arts.
This group is for all high school teens who share a unified passion for the visual and performing arts. Participants in this group will earn volunteers hours in the arts and support youth and teen arts programs with the City of Pleasanton. We will also go arts realated field trips throughout the season.
The FYAC is now an affordable City of Pleasanton program you can register for. Only $70 (resident) and $77 (non-resident) for the entire year.  To register, use activity code 61047 when you visit www.pleasantonfun.com.
Listen to "The Collective" thoughts of teens about the arts and everything else.
"The Collective" podcast is brought to you by The Firehouse Young Artist Collective
Members from the casts of Guys & Dolls and A Midsummer Night's Dream discuss opening weekend, their theater experiences and more!

Brenna Lonner, Luke Carter, and Luke Valentine talk music.