Click HERE to be taken to the Creatures of Impulse page
---
Auditions
Summer Drama Camp Teen Musical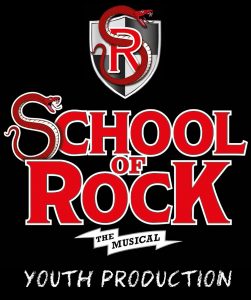 School of Rock ORCHESTRA Auditions
For High School Students Only!
Audition Date: Tuesday, March 14 5:00-10:00pm | Must sign up to audition!
>> Sign up to audition by clicking HERE (read all information on this page and the form carefully before selecting an audition time) <<
Required registration fee of $155R/$171N if selected for the orchestra
Rehearsals will start in April | Dates and Frequency TBD
For more information on School of Rock auditions contact Mark Duncanson at mduncanson@cityofpleasantonca.gov
Performance Dates: Th 7/27 & F 7/28 | 2pm & 7:30pm | Amador Theater
Instrumentation:
1 Keyboard 1 (doubling Descant Recorder)
1 Keyboard 2
1 Electric Guitar 1 (doubling Acoustic Guitar, Alto Recorder)
1 Electric Guitar 2 (doubling Alto Recorder, 12-string guitar)
1 Electric Guitar 3 (doubling Acoustic Guitar, Descant Recorder)
1 Bass Guitar
1 Drums
1 Onstage Guitar (Dewey) – audition at cast auditions as actors
1 Onstage Guitar (Zack) – audition at cast auditions as actors
1 Onstage Keyboard (Lawrence) – audition at cast auditions as actors
1 Onstage Bass (Katie) – audition at cast auditions as actors
1 Onstage Drums (Freddy) – audition at cast auditions as actors
School of Rock CAST Auditions
For Ages 12-18 only (must be 12 on or before June 26, 2017)
Audition Dates: Tuesdays, May 2, 9, 23 | 5:00-9:00pm

Audition info and form will be up Thursday 3/2 by 9pm | Must sign up to audition

!
Call Backs: Thursday, May 25 | 5:00-9:00pm

Required Summer Drama Camp fee of $6655R/$731N if cast

Camp Rehearsal Dates: M-F 9am-1pm | 6/26-7/26 | 9am-3pm 7/23-7/25| No Camp 7/4
Performance Dates: Th 7/27 & F 7/28 | 2pm & 7:30pm | Amador Theater
For more information on School of Rock auditions contact Mark Duncanson at mduncanson@cityofpleasantonca.gov
Please make sure to read all of the above information before inquiry about School of Rock
---
Music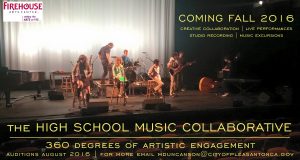 The High School Music Collaborative  is program that spans the school year. High School students selected for the program will engage in music event planning, musical performance collaborations, masterclasses, songwriting, studio recording, excursions to see shows, recording podcasts, recording music in studio, web-based videos, and more.
Congratulations to our 2016-17 High School Music Collaborative members:
Brenna Adams 



Logan Adams
Neel Chitale
Alyssa Crumrine
Amita Haravu
Lauryn Hedges
Demi Magana
Karin McCarty

Chloé Reddy

Isabella Wells
Sophie Wells
For more information: Call Mark Duncanson at 925-931-4828 or Jeff Zavattero at 925-931-4854
---
Performing Arts Classes and Workshops | Ages 11-18

Looking for Programs for KIDS? CLICK HERE
Coming Soon
---
Firehouse Young Artist Collective
A group of high school youth with a unified passion for the arts.
This group is for all high school teens who share a unified passion for the visual and performing arts. Participants in this group will earn volunteers hours in the arts and support youth and teen arts programs with the City of Pleasanton. We will also go arts realated field trips throughout the season.
The FYAC is now an affordable City of Pleasanton program you can register for. Only $70 (resident) and $77 (non-resident) for the entire year.  To register, use activity code 61047 when you visit www.pleasantonfun.com.
Listen to "The Collective" thoughts of teens about the arts and everything else.
"The Collective" podcast is brought to you by The Firehouse Young Artist Collective
Members from the casts of Guys & Dolls and A Midsummer Night's Dream discuss opening weekend, their theater experiences and more!

Brenna Lonner, Luke Carter, and Luke Valentine talk music.