Performing Arts
Improv For Grownups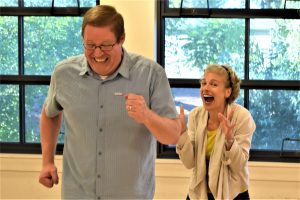 Adults should play too! Play improv games in a fun, supportive, no-pressure environment. Come ready to laugh and shake off the stress of the day! Tell your coworkers for a great team-building opportunity. No performance experience needed.
Firehouse Arts Center | Instructor: Mark Duncanson

---
Watercolor Workshop
Michael Reardon – Watercolor Techniques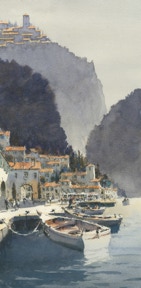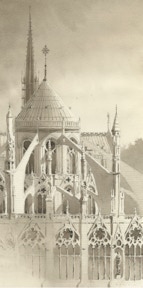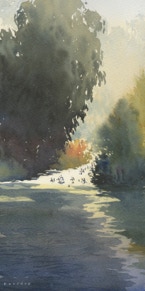 Hosted by the California Watercolor Association
When: January 31 to February 2, 2020 • 3 Day Worskshop
Level: Advanced Beginner to Advanced
Registration Fee: Non-CWA Members $485 , CWA Members $425
Happening concurrently with the 50th Anniversary of the California Watercolor Association's National Exhibition, Michael Reardon will share information from his latest book, Watercolor Techniques, during this three day workshop. He will share some of his insights into painting and how to enjoy it. Through demonstrations and hands-on painting, Michael will show ways to simplify and create dynamic compositions, work quickly and decisively, and capture the essence of a scene convincingly. He will cover the use of a limited palette, dynamic color mixing, and the use of light and value to describe form.
Learn more about Michael Reardon  and to learn more about the workshop and for a materials list, visit California Watercolor Association
---
Adult Art Classes
Instructor Profiles and Course Information
To register for classes at the Firehouse Arts Center please visit http://www.cityofpleasantonca.gov/gov/depts/cs/activities.asp for the current City of Pleasanton Activities Guide.
---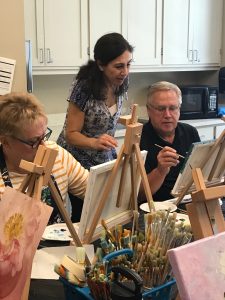 Zina Kassab  Ms. Kassab has a love for teaching art and working with the community, currently she teaches art with the cities of Dublin, Pleasanton, and Danville. Born and raised in Baghdad, Iraq, Ms. Kassab attended the Academy of Art at the University of Baghdad, graduating with a B.A. in print design. Immigrating to the California in 1993, Ms. Kassab worked as an artist for Corporate Vintages then went on to start her own business, Art On Glass, hand painted Middle Eastern designs on glass. In 1998, Ms. Kassab was invited by the Academy of Science through their cultural program to give a lecture and demonstration on her art on glass. Her work has been featured in the Independent and shown at Worthington Gallery in downtown Pleasanton. Courses Offered:
Sketching: Learn how to sketch basic shapes and correct proportions, understand perspective and contrast. Students will learn how to use the different sketch pencils and learn a variety of sketching techniques, sketching both landscapes and still life. All levels are welcome.
Acrylic Painting: Learn all about painting with acrylics, with emphasis on composition, color mixing and brush work. Participants will also learn all about acrylic techniques and textures. Students will be guided with a step-by-step instruction, no experience necessary.
---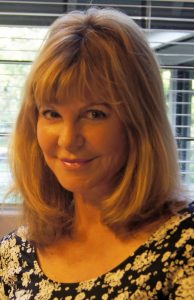 Peggy Magovern  Ms. Magovern began teaching two decades ago following a career in Commercial Illustration. Her published editorial work includes: The Wall Street Journal, Newsweek, Sports Illustrated, Smithsonian Publishers, Doubleday, and Knightsbridge. Ms. Magovern's fashion illustration work includes: Banana Republic catalog as Senior Illustrator, Macy's, and Northface among others. Ms. Magovern has also done production work for HBO, Honda, Bank of America, Nabisco, and Hewlett Packard. Her work is shown at the Beat Museum in San Francisco, and at the Mendocino Art Center. Course Offered:
Art in Colored Pencils: This is a class where students work on their own individual image, combining colored pencils with other mediums if interested. Although beginners are welcome, the class challenges students to delve into the "thinking" part of art, the importance of strong values, where color is the enhancement, not the distraction. There is a strong interest in learning realism, but interpretive art is also welcomed. With guidance and instruction as a focus in this class, there is also the awareness of identifying an emerging "style" that describes a student's personal vision.
---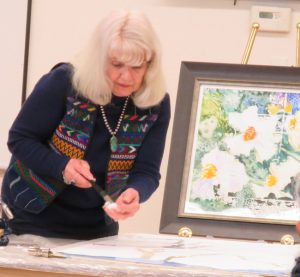 Charlotte Severin Mrs. Severin is an award winning Bay Area Plein Air artist whose works are displayed in public and private collections in the United States and abroad. As a watercolorist, Mrs. Severin has a passion for color and likes the soft impressionistic effect achieved by a wet in wet approach.  Her "Art Made Easy" system, based in Pleasanton, has been enjoyed by her many students throughout the years.
---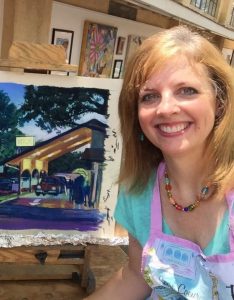 Debbie Wardrope Ms. Wardrope graduated with a BFA in Illustration from California College of the Arts (formerly know as California College of Arts and Crafts).  Her work has been recognized through numerous awards, and she as exhibited in many group and solo shows, such as Art Expo in New York and has had paintings in galleries from Yountville to Carmel.  Ms. Wardrope's work is included in private, corporate, and civic art collections around the nation, and she was recently honored to be selected by Senator Ellen Corbett to produce a painting representing her district to hang at the state capitol building in Sacramento, CA.  The painting, Pleasanton Evening, was displayed in the meeting rooms behind the Senate Chamber and is now owned by the Pleasanton Chief of Police. Ms. Wardrope's primary medium is pastel, but she also paints in oils and acrylics, she is a signature member of the Pastel Society of the West Coast and her work is currently represented by Studio 7 Fine Arts. She teaches for the City of Pleasanton and Danville. Courses Offered:
Pastel Painting for both beginning and more advanced students, focusing on the fundamentals of art in a relaxed, supportive environment.
Sketching/Drawing
Oil/Acrylic Painting