HARRINGTON GALLERY EXHIBIT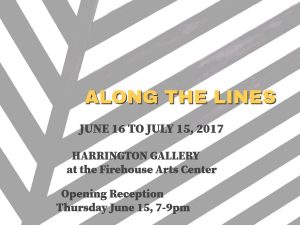 Along the Lines
June 16 to July 15, 2017
Related Children's Program: YOUNG@ART Along the Lines Thursday, June 22, 2017, 4:30-5:45 pm. For more details visit our Gallery Program page.
---
LOBBY AND HALLWAY EXHIBITS

Glenn Carter May 3 to June 10, 2017
Reminiscent of Marcel Duchamp, Santa Cruz artist, Glenn Carter, says his work is,"rooted in the intuitive response to materials and mark making." Glenn's work will be on display in the Lobby and Hallway of the Firehouse Arts Center May 3 through June 10.
---
PLEASANTON ART LEAGUE WALL