HARRINGTON GALLERY EXHIBIT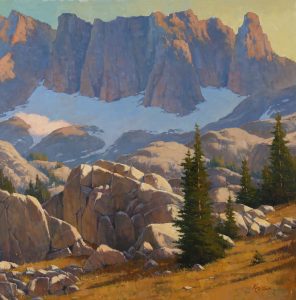 The Granite Group: Plein Air Paintings of the High Seirras
Jan 12 to Feb 17, 2018
Opening Reception Thursday, January 11 at 7 to 9 pm
An accomplished group of plein air artists pack in to the High Sierras each year to paint for a week in the wilderness. This exhibit will feature plein air and in-studio works by premiere artist such as Bill Cone, Paul Kratter, and Kim Lordier.
---
LOBBY AND HALLWAY EXHIBITS
Jade Fon Enthusiasts Jan 12 to Feb 17, 2017
A collection of paintings by former students and devotees of California watercolorist Jade Fon (1911-1983) will be hanging in the Lobby and Hallway Galleries of the Firehouse Arts Center Jan 12 to Feb 17.
---
PLEASANTON ART LEAGUE WALL