ART DEMONSTRATIONS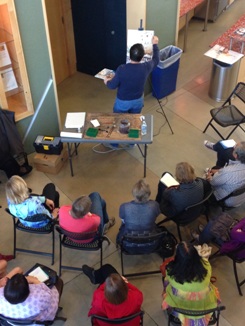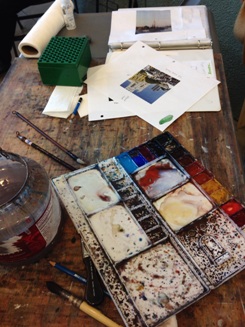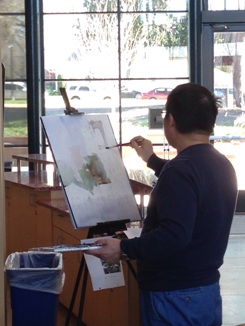 These photos were taken during prior painting demonstrations at the Firehouse Arts Center, in the lobby and in the gallery. Demonstrations are held throughout the year.
OUR NEXT DEMO…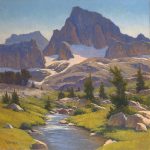 Dual Painting Demonstration and Gallery Walk-thru of the exhibition The Granite Group: Plein Air and Studio Paintings of the High Sierras
Presented by Bill Cone and Paul Kratter
When: Saturday, Jan 20, 11:00 am to 1:00 pm
Location: Firehouse Arts Center, Classroom A
---
YOUNG@ART
An exciting and educational afternoon program for kids ages 5-11.  Kids will learn about each new exhibit in the Harrington Gallery and then create a fun art project to take home. Visit PleasantonFun.com to sign up.

Upcoming Young@Art Classes:
The Outside Arts Harrington Gallery will feature works by a group of artists who go camping in the High Sierras to paint landscapes on site.  After discussing some of the techniques they use, kids will create landscapes in the studio or outside—weather permitting!
 1 class $15R/$18N
Ages 5-11
Registration Code: 4931
Thursday,  Feb 8, 2018, 4:30-5:45 pm
Location: Firehouse Arts Center
Instructors: Julie Finegan, Debbie Wardrope
Nordic Voyage Vikings, icebergs, snow, and curious symbols – come aboard the Harrington Gallery to visit the Nordic Voyage exhibition and see works by artists with a Nordic heritage.  Then in the classroom upstairs, participants will enjoy trying their hand at making some intricate design symbols and creating beautiful iceberg pictures.
 1 class $15R/$18N
Ages 5-11
Registration Code: 5920
Thursday,  Mar 15, 2018, 4:30-5:45 pm
Location: Firehouse Arts Center
Instructors: Julie Finegan, Debbie Wardrope
Colorific! Participants will visit the Harrington Gallery's Fresh Works VIII Juried Exhibit to see the variety of artworks.  We'll focus on colors and how they create mood in the works and then create some "colorific" paintings in the studio upstairs. Note: Registration for Colorific! opens Jan 10, 2018
 1 class $15R/$18N
Ages 5-11
Registration Code: 5921
Thursday,  May 10, 2018, 4:30-5:45 pm
Location: Firehouse Arts Center
Instructors: Julie Finegan, Debbie Wardrope
---
SCHOOL TOURS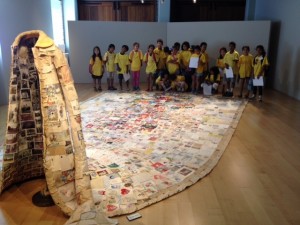 Did you know the Harrington Gallery offers school and youth group tours? Tours are by appointment only, available Tuesday, Wednesday, and Thursday, with limited availability. Includes gallery talk. $5 per person. Contact: Julie Finegan, Visual Arts Coordinator jfinegan@cityofpleasantonca.gov (925) 931-4849