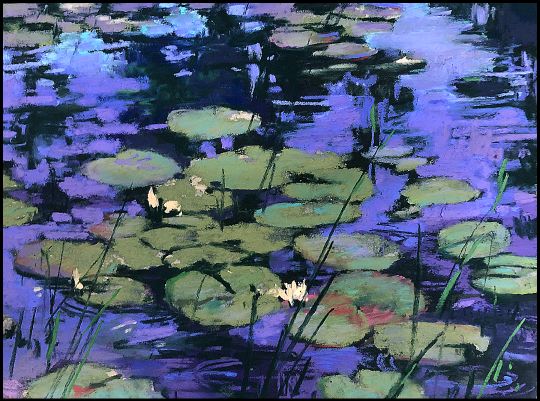 Terri "discovered" pastels in 1987 and has worked with them ever since.
She paints both in the studio and en plein air. She is drawn to the
landscape in varying light and conditions, but is also attracted to "rural funk" as she calls the old barns, sheds, and other structures she comes across, including bridges and other charming buildings of Paris and the French countryside. Terri's pastel paintings have gained national and international recognition. She was awarded the title "Eminent Pastelist" by the International Association of Pastel Societies in 2012. She is a Master
Pastelist with the Pastel Society of America and "Distinguished Pastelist"
status with the Pastel Society of the West Coast.

Terri's work has been featured in many publications including Fine Art
Connoisseur, American Art Collector, Plein Air Magazine, Pratique des Arts,
The Artists Magazine and Western Art and Architecture. Her work has been
featured twice on the cover of Pastel Journal. Most recently she was
featured in the coffee table book "Pure Pastel" and french art book "40
Maitres de Pasteles". Terri was the Guest of Honor for the Art du Pastel
France Giverny International Pastel Exhibition 2017.

Terri has won top awards in exhibitions at the National Arts Club, The Butler Fine Art Museum, The Triton Museum of Art, The Haggin Museum. In 2021 she received the Outstanding Landscape Award from American Women Artists as well as many other top awards over the years. She is a popular instructor across the US and abroad.
Website: www.terrifordart.com