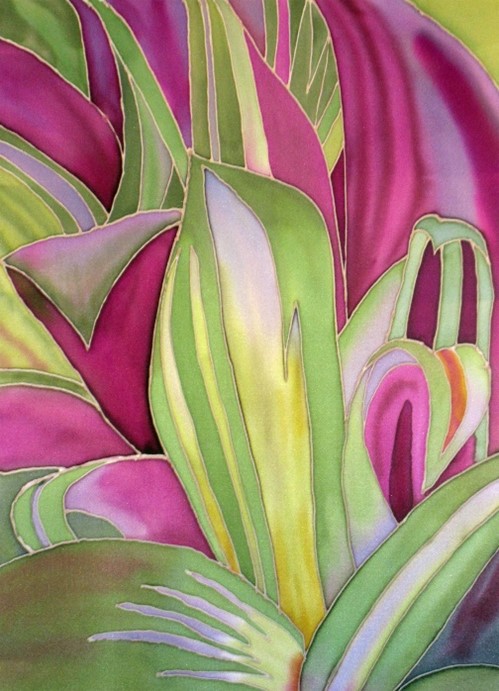 Angry Agave
As a child, I was introduced to art through classes at the Palace of the Legion of Honor in San Francisco. All I remember from those classes is an image of huge bottles of brightly colored tempera paint lined up on a window sill and the huge lions that still line the path to the museum. While attending San Jose State University, I earned a minor in art with an emphasis on crafts, especially textiles.
While on vacation in Washington more than 20 years ago, I attended a silk painting class because my hostess became ill and I took her place. The minute I saw the incredibly intense colors spread like magic on the silk; I was hooked. I gave away my watercolors and now paint only on silk. Using watercolor techniques, I paint on stretched silk with liquid dyes. The finished piece is then steamed for three hours to set the dyes. I sometimes incorporate my love of beads into my paintings. At times I rub dye crayons over rubbing plates onto the silk as a way to add more texture. I have recently used the painted silk as the basis for a whole cloth quilt.
My subjects range from florals to abstracts, and landscapes. I find cacti most sensual and beautiful and they satisfy my need for green. Abstracts are all about the color and pattern. My paintings have been exhibited from Los Gatos to Walnut Creek and Mendocino and as far away as Portland.