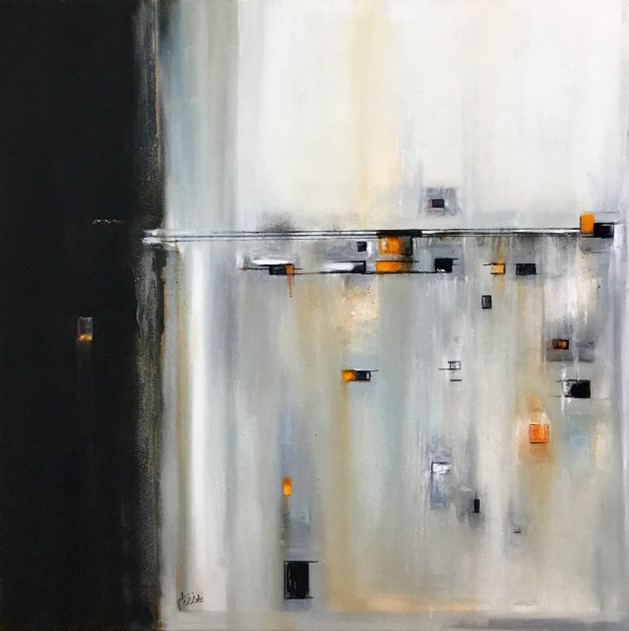 Self Inquiry
Born in Iran, Niloufar (nee.loo.fa'h.rr) was immediately thrown into the world of art by her mother. Her mother was an educated woman, school principal, and directed her children toward worlds of art. Niloufar was always with stacks of paper and paint. You could say, she was born an artist. However, her father had other plans. He was determined to send his children abroad to be highly educated and she was expected to return as a medical doctor.  At sixteen, Niloufar was sent to the US without her family. She graduated with honors from high school and entered Arizona State University for her microbiology degree and pre-med. 
After graduation, she started a career as a scientist. Meanwhile, her native country went through a war and uncertainty. Her fear for her family grew and grew and brought constant pain. The emotional experiences during those precious years left an incredible impression on her. She left her work, and started to take art courses. Her first mentor, Dorothy Odland, took her under her wing and highlighted her nationality and experiences as a multicultural individual.
At last through her deep love of art, she started to paint and draw. Other mentors (Karen Frey & David Hardy) that followed intensified the process of art making. Art sharpened Niloufar's senses! She finally advanced in the direction of her dreams and endeavors to live the life she imagined. She passed through the invisible boundaries of art itself.
Education & Professional Activities :
Tableau, Owner, Private instruction for children and adults, 2000-present
Figure Drawing Class and Workshop, David Hardy, Founder and Director of The Atelier School of Classical Realism, Oakland, CA, 2012-2013
Semi-Private Study & Workshop, Karen Frey, Signature Member Of National Watercolor Society, Oakland, CA 2010-2011
Plein Air & Watercolor Class, Mark Roberts, Painter & Curator of Antioch Lynn House Gallery, Antioch, CA 2009-2010
Graduate Drawing Figure Studio, Academy of Arts University, San Francisco, 2009
Mentor & Painter, Dorothy Odland, Women's Art Registry of Minnesota, 1999-2000
B.S Microbiology, Arizona State University
Artist Statement:
My paintings are an amalgam to the essential questions of life, "Who am I? Why am I here? What is this life about? How can I contribute to this world?" They are also a tribute to my cultural upbringing and emotional crosscurrents of my life. I have been drawing and paintMing figures since childhood and I still do. My figurative art retains strong reference to reality of my own life and my thoughts, feelings and my identity. My thoughts and feelings created my life and I identified with them.
In 2014, I started working in an abstract expressionist style. My abstract paintings are mostly nonrepresentational. They are started without any preconceived ideas as opposed to my figurative work. Once I give permission to my creative self, my paintings develop in their own way and materialize. The paint takes charge. I take a role of vessel. This is not without conscious thought or intention. It is indeed the consciousness itself. I am allowing whatever I am attached to leave, especially the thought of "I," "me" or "mine." I go beyond ego, and let I AM which is consciousness itself, emerge. Through opening myself to the emerging consciousness, I bring awareness to "Who I AM", "Why I AM here" and "What is this life about?"
Our world is facing the biggest environmental challenge ever seen and that is Climate Change. Climate Change has already had observable effects on the environment. Glaciers have shrunk, ice on rivers and lakes is breaking up earlier, plant and animal ranges have shifted and trees are flowering sooner. Melting Arctic ice has caused uncontrollable Climate Change. Research shows that changes in climate, especially earlier snowmelt due to warming of spring and summer, have led to hot and dry conditions that boost the fire activity in some areas. Climate Change is the defining issue of our time and we are at a crucial moment. Climate Change is NOT a distant threat, it is happening now! My new abstract expressionist painting series depicts the catastrophic impact on our planet that our leaders are not taking seriously.
In the end, all the intangible things transform in myself, into my figurative and abstract artwork. When I paint or draw, I bathe my head in the unknown and explore the unexplored, above all common sense! I pursue life my own way. It is with this perception that I want to affect the quality of the viewer.