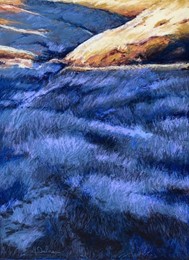 Just before Sundown on Mt. Diablo
A lifelong resident of the Bay Area, followed her degree in art from the University of California at Berkeley with service in the Peace Corps in Kenya. While teaching for thirty years at the French-American International School in San Francisco, art remained her great love. She is now painting and working in pastel full-time.
Whether focusing on a broad California landscape or on a simple still life, she is captivated by vibrant color and the patterning of shapes. Marsha's work avoids a naturalistic palette and demonstrates an interest in unusual perspective and nuances of light and shadow. Her work is always bold and painterly, often challenging the picture plane. The artist says, "I am attracted by ordinary objects and the study of relationships between value, hue and texture. A new landscape with fresh color is always intriguing."
Her work has been selected several times by The Pastel Society of America for its exhibition at The National Arts Club in Manhattan. Dalmas has also shown her work at The Pastel Society of the West annual show, the Haggin Museum, the Greenlining Institute, East Bay Pro Arts, The Mother Lode Show and at other California landscape shows, receiving awards at several of these events. In 2017 Dalmas's work was selected to hang for the year in Berkeley City Hall as part of their annual Civic Center Art Exhibition. Her work is often on view at Expressions Gallery in Berkeley and at shows of Chalk It Up, an East Bay pastel group.