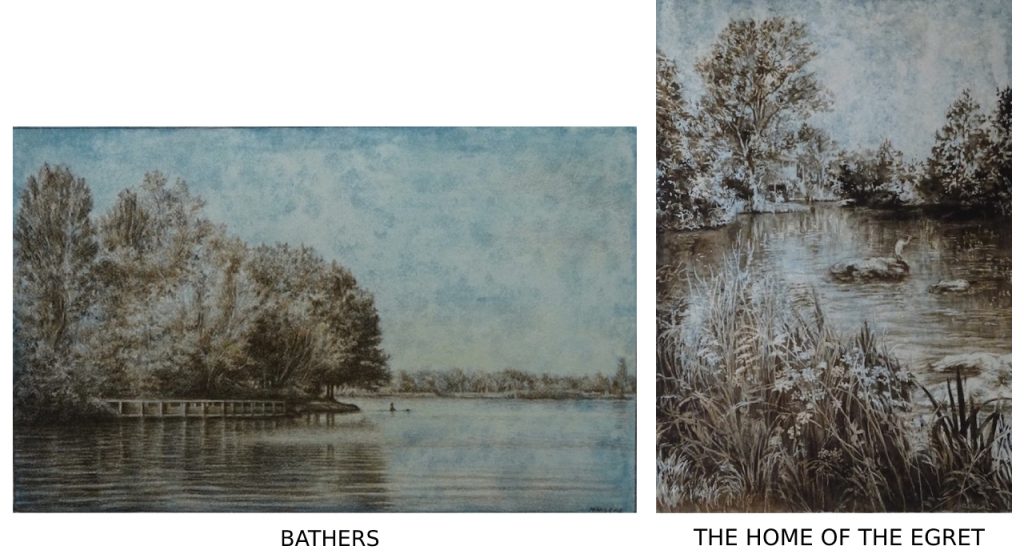 In the Summer of 2019 I visited my family in Southern France – I am so happy now that I could go just before the Pandemic!
I took a lot of photographs, finding myself a tourist in my country of origin after so many years living in the US.
I also visited many museums and was impressed by a particular exhibition in Paris featuring a collection of small drawings made by traveling XVIIth century artists from the Netherlands.
It gave me the idea of an "imaginary sketch pad" inspired by my trip, in a technique reminiscent of these drawings, with a limited range of colors and the desire to express a feeling of revisiting the places of the past.
Education
Ecole Nationale Superieure Des Arts Decoratifs Paris, France 1979 – 1980
Ecole Superieure d'Arts Graphiques, Paris, France 1980 – 1982
Graduated first in her class with the Diplôme Concepteur-Graphiste
Employment
Worked as a free-lance illustrator in Paris, 1982 – 1988
Projects included magazine illustrations and book covers
Has been painting and participating in Art Shows
since her arrival in California in 1989
Participation in Art Shows
Bankhead Theater Livermore, California
Triton Museum Santa Clara, California
California Art League Sacramento Fine Arts Center
Roseville Art Center
California State Fair
Gallery Concord Concord, California
San Francisco Women Artists
Ebert Gallery San Francisco, California
Olive Hyde Gallery Fremont, California
University of the Pacific Stockton, California
California Museum of Art Santa Rosa, California
Berkeley Art Center
Royal Ground Gallery Piedmont, California
Women's Art Works National Exposition Rochester, New York
Greene County Council on the Arts Catskill, New York
Artists Contemporary Gallery Sacramento, California
Christensen – Heller Gallery Oakland, California
Thomas Reynolds Gallery San Francisco, California
John Natsoulas Gallery Davis, California
Adobe Gallery Castro Valley, California
Hayward City Hall Hayward, California
Blackhawk Gallery Danville, California
Los Gatos Art Museums Gallery Los Gatos, California
FireHouse Arts Center Pleasanton, California