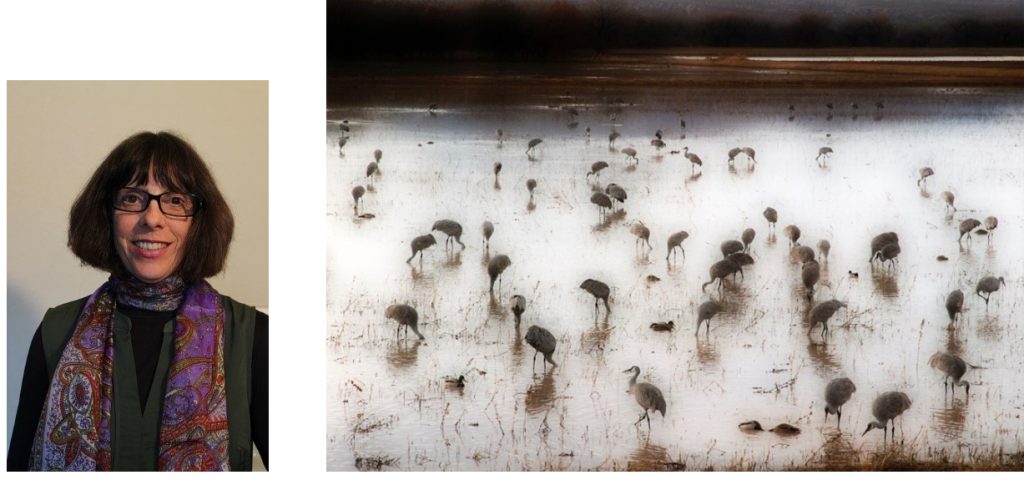 Sandhill Cranes in Dawn
Lisa Rigge is a photographer and an Adult Education teacher. She was an Artist-in-Residence at the KALA Art Institute in Berkeley and produced a portfolio of solar plate etchings derived from photographs. She has studied with nationally renowned photographers Holly Roberts, Elizabeth Opalenik, Debra Fleming Caffrey, Al Weber, Mark Citret, and Brian Taylor.
She has exhibited in solo and group shows. Her work has been included in: LaGrange National XXVI Exhibition, in LaGrange, Georgia; Women's Work 26th Annual Exhibit in Woodstock, Illinois; the National Association of Women Artists Small Works in New York City, NY; the California State Fair, the Alameda County Fair, and Elk River Arts Alliance.
Some of her awards include: First place at the Texas Photographic Society National Competition in 2004, selected by juror Sue Brink; Best of Class, Alameda County Fair 2009, 2011, 2013, 2019; Best of Photography, Elk River Arts Alliance, 2011, 2nd Place 2015, 4th Place 2019; Hopkins Center for the Arts, 2nd Place, 2021.
Her work is private collections at the Arkansas State University, Arkansas; at Minot State University, Minot, North Dakota; the City of Fairfield, CA; and the City of Livermore, CA. Her work has been published in ZYZZYVA, Volume XXI, No. 3, The Rose in the World, published in Athens, Georgia; LensWork: Seeing in Sixes 2019; LensWork: Our Magnificent Planet, 2020, and The Sun Magazine, 2021.
Lisa was the President of the Pleasanton Art League for 3 years. Her work is represented by Valley Arts Gallery, Walnut Creek, CA.