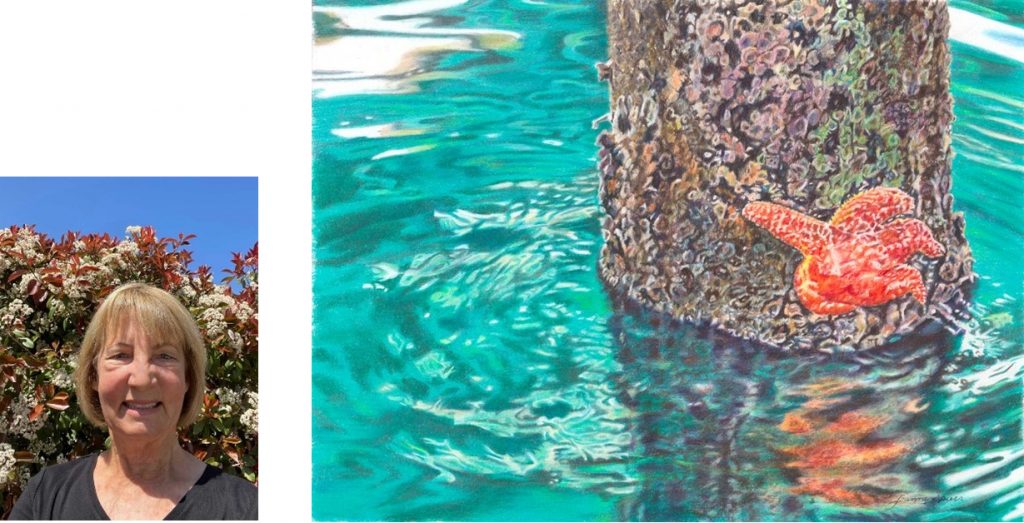 Resting on Avila Pier
"I find my favorite subjects in the photos I take while hiking, walking through my rural neighborhood, visiting local nurseries, or sitting in my backyard with my camera nearby.  I use my own photographs as original references for all my art work. When deciding what to draw/paint, I look for dynamic shapes and colors, often cropping for interesting composition. I enjoy the snippets of beauty, harmony, and interactions encompassed in nature, and those brief moments of something special that deserves to be celebrated."
BIO
Joanne, a Bay Area native, has always been interested in the arts. She loved drawing horses, dogs, and trees as a youngster. She took art classes as elective throughout her college education. She found time to develop her passion for art after retiring from teaching. Joanne studied watercolor and colored pencil with various local artists. Since developing her interests, she began to notice things around her with new eyes. An object or scene became more than what was visible. It came to include lights, darks, shapes, hues, textures, and more to tell a story. On her hikes and explorations, she gets her inspiration from objects, actions, scenes caught with her camera.
Her favorite subjects are found in the photos she takes while hiking, walking through her neighborhood, visiting local nurseries, or sitting in her backyard with her camera nearby. She uses her photographs as original references for all her art work. When deciding what to draw/paint, she looks for dynamic shapes and colors often cropping for interesting compositions. She is inspired with the snippets of beauty, harmony, and interactions encompassed in nature.
She is a member of the Pleasanton Art League, the Livermore Art Association, and the Mendocino Art Center. She has shown her work in local art shows and won numerous awards. Joanne's work has been displayed widely throughout the Tri-Valley area, including the Bankhead Theater, To the Point at the Berkshire Hathaway Realtors, Livermore Art Association Spring Shows, Pleasanton Art League, Harrington Gallery, Harrington Fresh Works Juried show, Danville Village Theater Juried Show, Primavera-Blackhawk, and the Livermore Art Association Gallery.