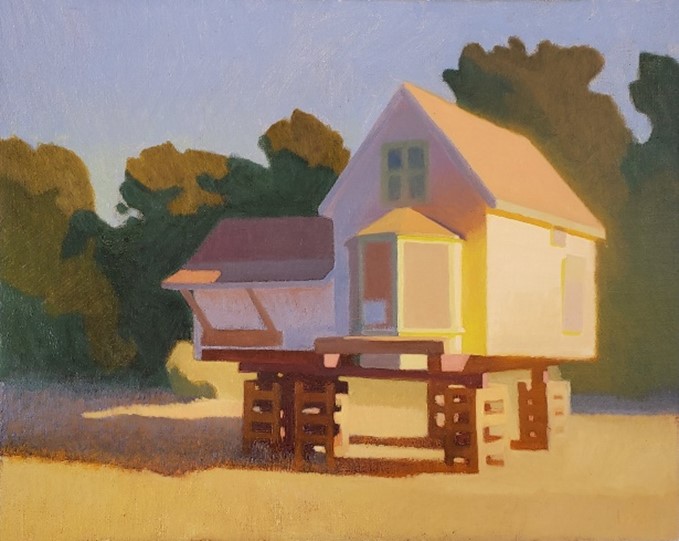 Moving House
"Moving House" (Oil, 16" x 20") depicts the original Irby Ranch house during the construction of a new neighborhood that includes Sunflower Hill.  The ranch house has been lifted off its old foundation and set on box cribs, waiting to be moved to its new location.
While attending Principia College, I was introduced to plein air painting and the bold color and strong design of the California Regionalist Watercolor Tradition. My early career capitalized on watercolor's portability with road trips in the Western United States and international travel. My mid-career focus is the vernacular architecture, landscapes, and gardens of my home state, California.
American Artist, Watercolor Artist, Plein Air Magazine, Savvy Painter, and Learn to Paint podcasts have profiled Lord's career and artwork. She is a Signature member of California Art Club, National Watercolor Society, California Watercolor Association, and American Women Artists.
Regional shows and events this year: Studio Gallery, SF show in April, May, and July; Livermore Art Association's Paint-out June 4-6; East Bay Open Studios June 12-13; Sonoma Plein Air September 6-11.
For detailed information visit: www.carolynlord.com