September 8th – October 22nd, 2022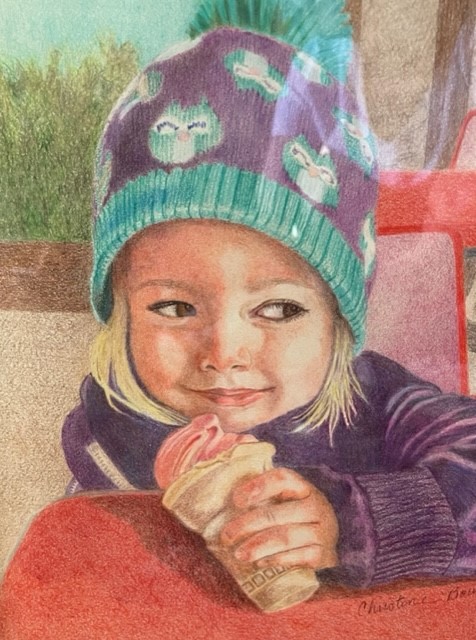 We are delighted to introduce our featured artist on the Pleasanton Art League Wall for September and October 2022, Christine Bourg.
Working primarily in the medium of pencil and pastel, this solo exhibition features a selection of the artist's representative works. Capturing the subtle shadows of landscapes and the fluid movement of children and animals alike, Bourg's attentive gaze is reflected in her craft. In juncture with 10 works of pencil and pastel, three ceramic sculptures will also be on view for this presentation.
For her solo exhibition, the artist has released the following statement:
I've worked with art materials since childhood, with crayons and coloring books, making house designs on sheets of butcher paper and modeling clay into animals. I took all the art classes they had in high school then went on to college majoring in sculpture and ceramics. I earned a teaching credential and taught elementary school for 34 years. I always included art in the curriculum as it was one of my passions.
Since retiring I've spent much of my free time playing with art in various forms and taking art classes. My main love is ceramics but a close second is drawing with colored pencils.
Over the years I've won awards for both ceramics and drawing and I've sold my art locally. I'm currently working with PAL as the chair of the PAL/MOM art show.