Abel Manalo
May 4 – June 18, 2022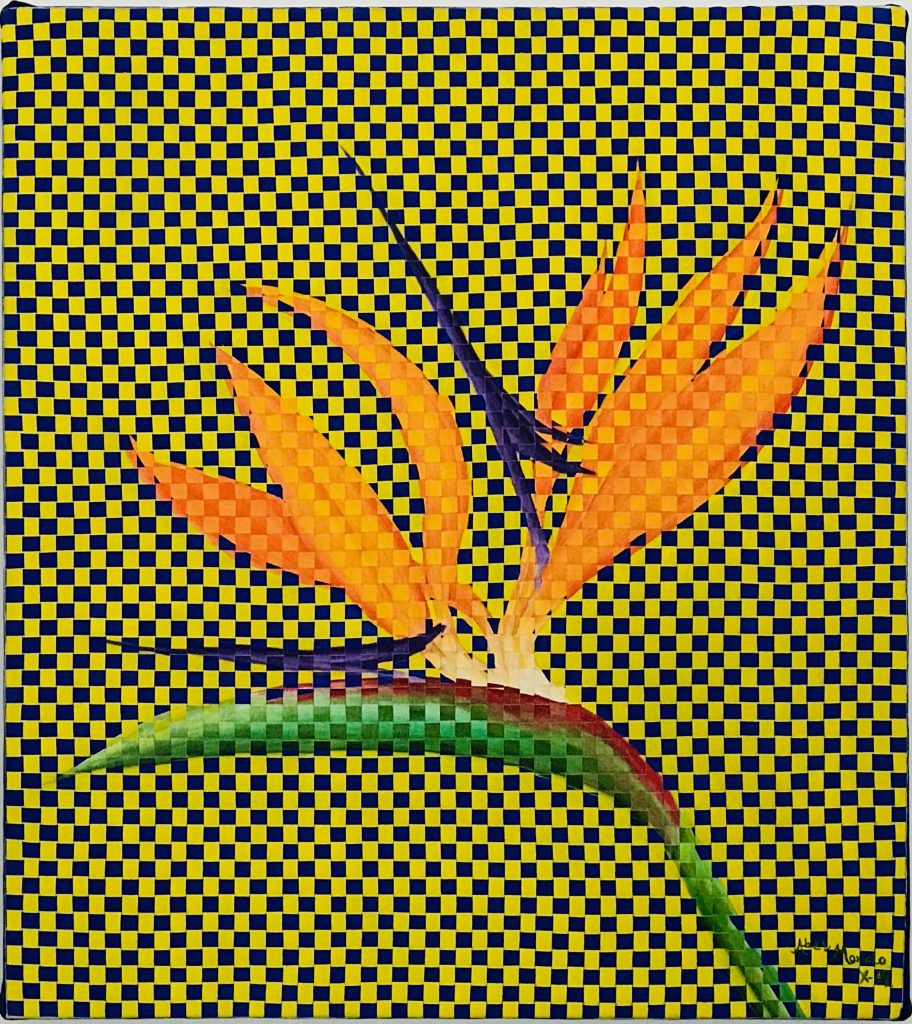 The Firehouse Arts Center is pleased to present Abel Manalo's solo exhibition, "Threads of Allegory," from Wednesday, May 4 until Saturday, June 18, 2022.
Conveying both resilience and a passage of time through his hand-woven artworks, it is the vibrancy of each piece that draws in a viewer upon first glance. Using a method of initially creating two unique pieces that hold a dialogue with one another, Manalo cuts each piece into lengthily ribbons before braiding them into an original canvas. Furthering the depth and dynamism of each piece, this technique is a representative feature of the artist's work.
Coinciding with the celebration of Asian American and Pacific Islander Heritage Month in May, Manalo's personal history as a Filipino-American is evident at the core of his artistry. Weaving together the story of his journey from the Philippines and his identity as an American, motifs such as the national flag of his motherland and imagery of global icons emerge from a multitude of artworks. Inviting viewers to reflect on their individual histories, "Threads of Allegory" contains 21 hand-selected artworks by the artist. In light of his exhibition, Manalo has released the following statement—
"I express my creativity through painting by using mediums such as watercolor, oil, acrylic and mixed media. My inspirations come from portraiture, figurative and representational art. In my creative process, I paint two original pieces that complement each other, cut them into strips and meticulously weave them together into an entirely different work of art. By weaving the two paintings into one artwork, a dimensional texture is created. Oftentimes, I have a preconceived image within my conceptual idea however, there is always an unexpected elements in the completed artwork. Exact and accurate techniques are implemented to achieve a gratifying result in the painting."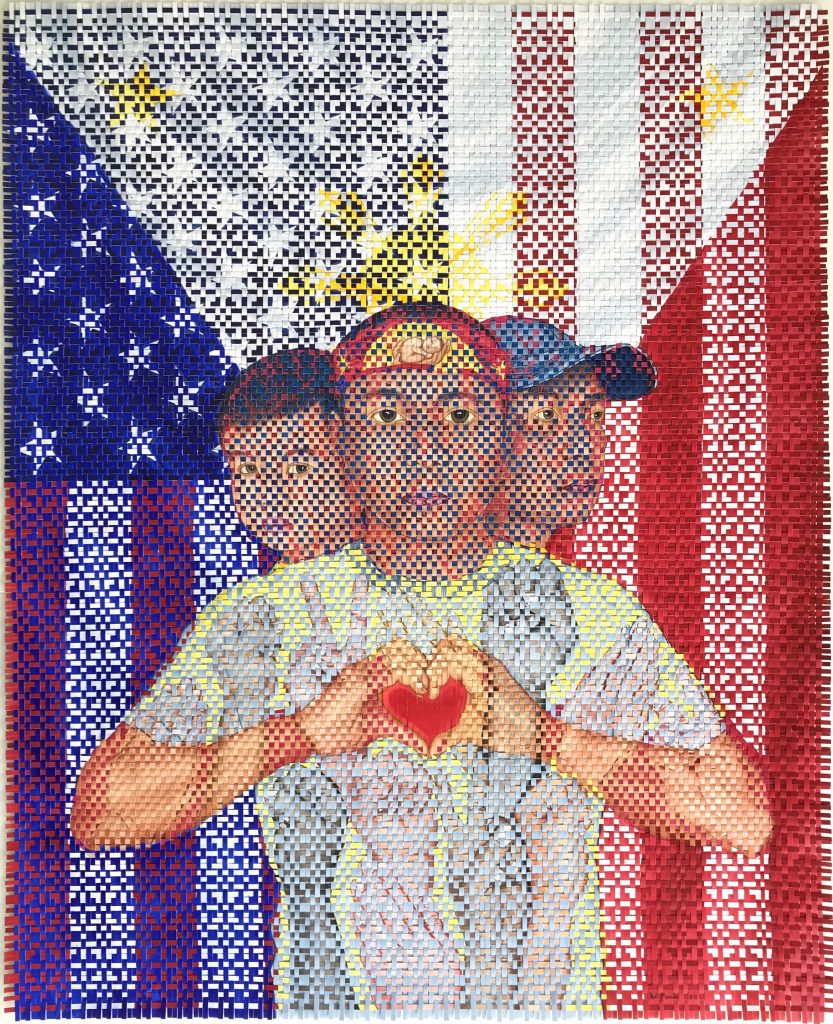 BIOGRAPHY
Abel Manalo is a San Francisco-based Filipino-American artist who creates multi-dimensional woven artworks. He expresses his creativity through painting by using mediums such as watercolor, oil, acrylic, and mixed media. The artist's inspirations come from portraiture, figurative, and representational art.
Manalo was born in the Philippines and immigrated to the United States in the 1980s. He started working during his teenage years to help his family settle comfortably in their new lives. Thriving while overcoming obstacles and adversities to pursue his artistic passion, the artist started his artistic education in 1991 at a community college and has pursued art full-time since 2016. Manalo maintains an art studio at San Francisco's Hunters Point Shipyard and has exhibited in several local galleries. He was featured at the first edition of the "de Young Open" group exhibition in 2020 at The de Young Museum. Manalo was one of the ten featured artists and honorarium recipients of Mozaik Philanthropy Organization's "Re-Imagining Democracy" 2021 virtual exhibition currently online.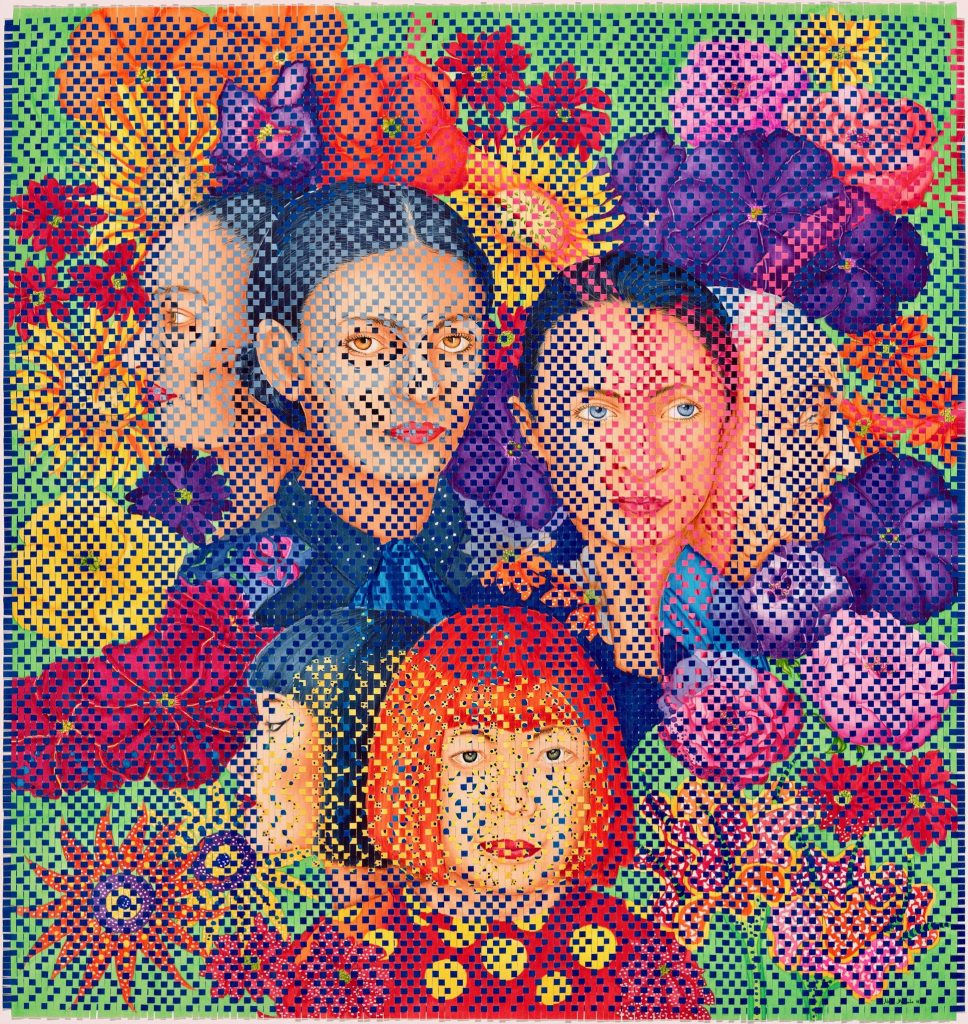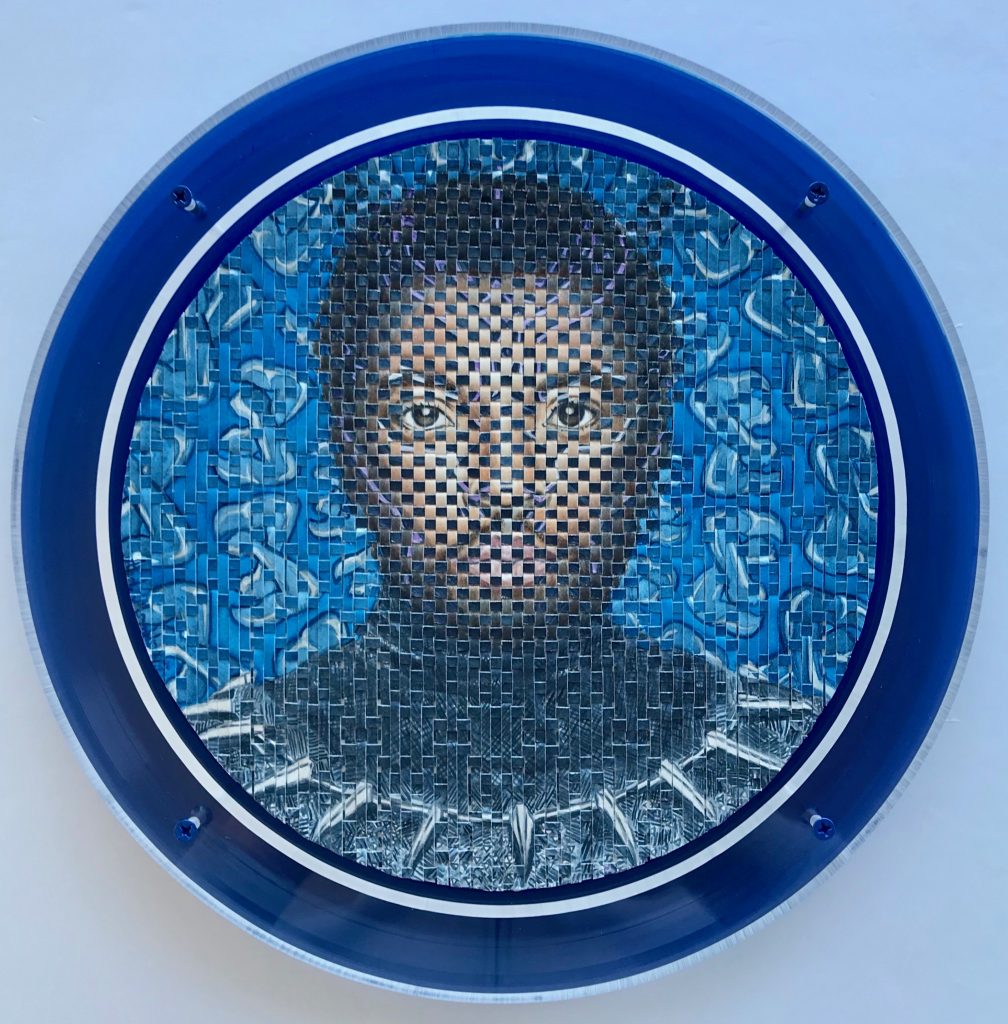 CURRICULUM VITAE (Solo and Group Shows)
'ECOSYSTEM X', Mozaik Philanthropy Organization's 3rd Annual Future Art Awards (2022), One of the 30 Special Mention Artists,
Virtual Exhibition of 40 Artists, February 15, 2022 – Open-ended
'SKATE', Mirus Gallery, San Francisco, CA, January 14, 2022 – February 15, 2022
RE-PURPOSEFUL, THE ART OF COLLAGE AND ASSEMBLAGE, Fundraiser for SCRAP SF, Randall Museum, San Francisco, CA
October 1- December 31, 2021
'RE-IMAGINING DEMOCRACY', Mozaik Philanthropy Organization's 2nd Annual Future Art Awards (2021), One of the 10 Featured Artists,
Virtual Exhibition of 50 Artists, June 28, 2021 – Open-ended
'THE RETURN OF DISCOLANDIA', 111 Minna Gallery, San Francisco, CA December 4, 2020 – February 14, 2021
'ON THE EDGE', The de Young Open, The de Young Museum, San Francisco, CA October 10, 2020 – January 3, 2021
'ARTISTS CHOICE 2020', Juried Show, Juror's Choice – 'Amada Mia (My Beloved)', San Francisco Women Artists Gallery, San Francisco, CA September 29 – October 30, 2020
'FREE TO BE', Juried Show, Juror's Choice – 'Who I Am', San Francisco, Women Artists Gallery, San Francisco, CA September 3 – 26, 2020
'RESOLUTION', Palette SF Gallery, San Francisco, CA December 20, 2019 – February 28, 2020
'MERRY LITTLE ART SHOW', JCO'S Art Haus, Los Gatos, CA November 14 – December 31, 2019
'THE VERY VERY RARE AFFORDABLE ART FAIR', JCO'S Art Haus, Los Gatos, CA October 24 – 27, 2019
'PISTAHAN 2019 FESTIVAL', Yerba Buena Garden, San Francisco, CA August 10 – 11, 2019
'KALAYAAN (PHILIPPINE INDEPENDENCE CELEBRATION) SF 2019 FESTIVAL', Union Square, San Francisco, CA June 22, 2019
'EL FINAL DE UNA ERA (END OF AN ERA)', Wonderland SF Gallery, San Francisco, CA June 1 – 23, 2019
'SPRING OPEN STUDIOS 2019', Hunters Point Shipyard Artists, San Francisco, CA May 4 -5, 2019
'POR QUE SI! (WHY, YES!)', Wonderland SF Gallery, San Francisco, CA March 16 – April 12, 2019
'DISCOLANDIA II', Wonderland SF Gallery, San Francisco, CA December 15, 2018 – February 15, 2019
'CELEBRANDO NUESTROS MUERTOS', Wonderland SF Gallery, San Francisco, CA November 3 – December 11, 2018
'ARTSPAN SF OPEN STUDIOS', SOMArts Cultural Center, San Francisco, CA October 13 – November 11, 2018
'KALEIDOSCOPE' SOLO SHOW, Sweetie's Art Bar SF, San Francisco, CA September 7 – 30, 2018
'10 YEARS IN WONDERLAND', 111 Minna Gallery, San Francisco, CA June 1 – 29, 2018
'DISCOLANDIA – VINYL SHOW', Wonderland SF Gallery, San Francisco, CA December 9, 2017 – February 9, 2018
'TALES OF THE CITY', Modern Eden Gallery, San Francisco, CA December 16 – 29, 2017
'ARTSPAN SF OPEN STUDIOS', SOMArts Cultural Center, San Francisco, CA October 12 – November 12, 2017
'CHILLIN' PRODUCTIONS POP-UP ART SHOW', 111 Minna Gallery, One Night Only, San Francisco, CA September 30, 2017
'SIMPLY FRIDA II', Wonderland SF Gallery, San Francisco, CA July 8 – September 10, 2017
'HOLIDAY SHOW – $300 AND UNDER SHOW', Wonderland SF Gallery, San Francisco, CA December 8, 2016 – January 8, 2017
'NUESTROS MUERTOS', Wonderland SF Gallery, San Francisco, CA October 22 – November 30, 2016
'SIMPLY FRIDA', Wonderland SF Gallery, San Francisco, CA July 16 – October 19, 2016