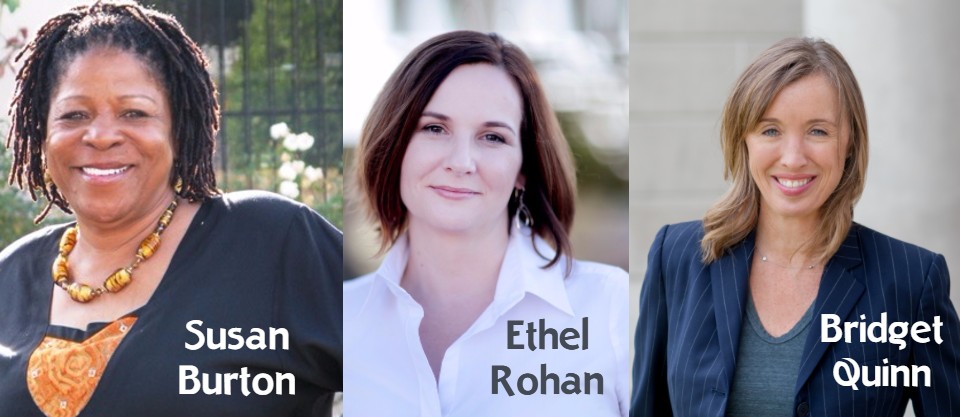 $10

In conjunction with Towne Center Books, an evening with the following authors:
SUSAN BURTON
Susan is the author of the memoir Becoming Ms Burton. She is a formerly incarcerated woman who after nearly two decades in the criminal justice system was unable to find work, housing, or adequate addiction-recovery treatment. She gained freedom and sobriety in 1997 and made it her life's work to help other women walking in her shoes. In 2010 she was nominated as a CNN Top 10 Hero and received the Citizen Activist Award from the Kennedy School of Government at Harvard University. She has been a Soros Justice Fellow and a Women's Policy Institute Fellow at the California Wellness Foundation. She lives in Los Angeles.
ETHEL  ROHAN
Ethel Rohan's debut novel is The Weight of Him (St. Martin's Press, February 2017). She is also the author of two story collections, Goodnight Nobody and Cut Through the Bone, the former longlisted for The Edge Hill Prize and the latter longlisted for The Story Prize. An award-winning essay and short story writer, her work has appeared in The New York Times, World Literature Today, The Washington Post, Tin House Online, GUERNICA Magazine, and many more. Raised in Ireland, she lives in San Francisco where she constantly referees her cat and dog and eats way too much chocolate.
BRIDGET QUINN
Bridget Quinn is a writer, educator and art history scholar who's worked at the Metropolitan Museum of Art, and taught at Portland State University and other fine institutions.
She's also the author of Broad Strokes: 15 Women Who Made Art and Made History (in That Order), which NPR's Susan Stamberg calls "a terrific essay collection" with "spunky attitudinal, SMART writing," marking the second time "attitudinal" has been used about her work (first: Kirkus Reviews, 1996). In January, Publishers Weekly selected Broad Strokes as a Top 10 Pick in Biography/Memoir for spring 2017.
Raised on the high plains of Montana, Bridget lives in San Francisco with her husband, two children, two dogs and a ridiculous number of bikes. She is a grateful denizen of that lively creative community, the San Francisco Writers' Grotto, and the co-host of The GrottoPod, their podcast on writing and the writing life.
*Ticket redeemable for discount on books purchased at the event.
Location
Firehouse Arts Center